Made some minor usability improvements. A player can now be marked as "not active" which means they will not show up in the player selection lists which started to get a bit long.

Also planning to add some things like a personal info page for the characters showing some additional data/statistics not printed on the character sheet. If you have any ideas for what you want to see there.. or any other ideas in general for Skynet improvements you are welcome to post them.
It's not done yet but I added a partial version of the additional info page. You find it on the "Do you want to know more" link from your character page.
For a long time, some of us have, very informally, been keeping track of what kind of trophies and achievements a character earns, for example, getting a confirmed kill on each type of alien. Or "recovering" an item of particular value or meaning, Dedrichs breastplate or Palmers sidearm for example.

Actually, a more formalized list of Achievements could be cool, to track eligibility for "locked" advantages and badges. Like "Successful combat drop" unlocks the whatever it is for the Parachute skill. Or like running a mission involving alot of a certain language unlocks the posibility of learning that language through XP and so on...

Maybe "Confirmed kill: Grey" could unlock some advantage related to ARM interactions, or "CK: Xenomorph" could make the character less (OR more) likely to underestimate them in the future, OR less likely to get fearpoints from future encounters, etc...
While I am thinking about this, any list of confirmed kills would be cool to just have! If only for bragging rights =) Might be too much book keeping to handle during play though...

Devastator

Game Master





Antal inlägg

: 10


Registreringsdatum

: 2015-10-22

Karaktärsblad
Rank: Private FC
Name: Alexander Covington
Specialty: Close Combat


I am open to doing tracking like this in Skynet as long as it will not be too much administration for GM:s to keep it up to date. Encounters with various alien types (but not kills) has been added now and can also be tied into the advantage system.

For everything else like special items the forum would be a perfect place to gather this kind of knowledge. You know this better than I do so please feel free to start a thread and give some explanation of the significance of the old "relics" within the platoon.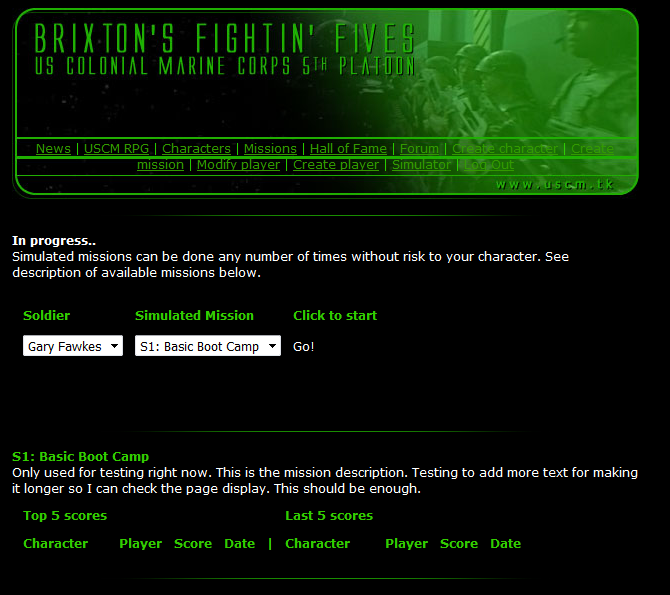 Just something I'm playing around with now. Not sure what will come of it or when. probably should be focusing on the rulebook rewrite or the next Lincon scenario instead.. but as I do this for fun I get to work on whatever I feel like


---
Permissions in this forum:
You
cannot
reply to topics in this forum